Teleportivity is a cloud-based customer support video platform that allows support staff to remotely interact with customers live from a teleportal device.
Access Teleportivity
If you're already using Teleportivity and are a supervisor or manager, you can submit an IT request if staff require access. In your request, please provide the following information for the staff requiring access:
Full name
Email address
Phone number
Position title
Type (customer service or manager)
Department
Once their account is set up, they will receive an email with a link to access Teleportivity.
If your area would like to use Teleportivity, submit an IT request and ITS will be in touch to discuss your requirements.
Top of page
What you need
You will need the following things to use Teleportivity:
A teleportal device set up for your area
Computer with microphone and camera
Google Chrome web browser. Google Chrome is currently the only compatible browser.
Top of page
Check audio, video and set up virtual background
Audio and video
To check your sound and video are working correctly:
Click the settings cog iconon the top right of the screen.
Select 'Audio & Video Check'.
Check your computer's camera and microphone are working:

Camera: Video will display in the test window.
Microphone: The 'Input level' bars will light up when speaking.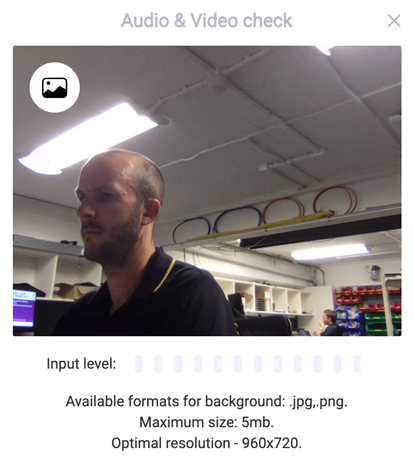 Virtual background
You can set up a virtual background by clicking the image icon

and selecting a background from your computer.
Adjust ringer volume
To adjust the ringer volume when a call comes through:
Click the settings cog iconon the top right of the screen.
Locate 'Notifications volume' and adjust the slider to your preference.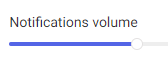 Top of page
Receive and handle calls
When waiting to receive a call, you should be on the location's screen. Select your location from the left menu.
When a call comes through, you will hear a ring through your computer's speakers or headphones when you are signed in.
The location that the incoming call is coming from will be highlighted red. Click on that location if you are not already in it.

The screen the incoming call is coming from will also highlight red.
To answer the call, click within the red highlighted box.
Call controls
Once you're connected to a call, you will see two video screens:
The larger screen displays video from the teleportal the customer is calling from.
The smaller screen displays what the customer sees on the teleportal.
On the larger screen, you will see the following call buttons:
 Mute - Mute your microphone.
 Video - Turn your video off or on.
 Background - Turn your background off or on. See section 'Check audio, video and set up virtual background' for more information.
 Share - Share your screen on the teleportal with the customer.
 Pause - Pause your call. Click 'Play' to resume.
Other call functions
Direction - Display a directional arrow on the teleportal.
Images - Display an image on the teleportal.
Emoji - Display an emoji on the teleportal.
Transfer Consultation - Displays a QR code on the teleportal for the customer to scan on their mobile device. The call will be transferred to the customer's mobile device.
To Screens - Transfer your call to another teleportal. This function is currently not available to use at UQ.
Top of page
Change your status
You can change your status when signed into Teleportivity:
Click the settings cog iconon the top right of the screen.
Next to 'Status', choose from:

Online - Available to take calls.
Offline - Appear offline. No calls will come through.
Busy - Prevent calls coming through to you.
Top of page
Upload images
You can upload images to Teleportivity so you can share them with a customer:
Click 'Location images' near the top right of the page.
Click 'Add Image'.
Choose an image to upload from your computer. You can upload up to 50 images.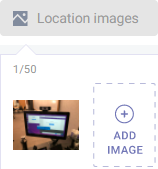 Top of page