Business Classification Scheme (BCS)
PLEASE NOTE: In May 2019 the refreshed Business Classification Scheme was rolled out.  This change was introduced to bring the system functionality up-to-date and to give better alignmented with current University business functions and activities.
The BCS is required when creating folders within HPE Content Manager
The HPE Content Manager (TRIM) file plan is known as the Business Classification Scheme (BCS).  It is a user friendly standardised business-wide file plan, to enables better opportunities for collaboration and access to shared information and records.
When records are kept in the system and organised via the BCS, UQs central Records Management and Advisory Services team (RMAS) will take care of the compliance requirements for the business by managing and maintaining the correct legal retention and disposal timelines.
The BCS is a sustainable way to standardise and organise recordkeeping for the business.  It is aimed to increase useability, capturing information in context of its purpose, and maintaining it throughout its legally required retention and disposal requirements. Other benefits include:
A standard language is applied for the common key functions that are performed throughout the University
Supports business areas in organising, capturing, securing, sharing, and reducing duplication of their information
A single point of truth for information and records
Builds staff confidence in the reliability, authenticity, validity of the information they need to make decisions
Supports business activities
Ensures that the business is maintaining their legal obligations under the Public Records Act (2002).
The BCS is structured to display the top level administrative and operational functions then expands into a more defined list of standard everyday business activities associated with the function. In some cases it may also break down to a third level by associated specific subject.  From here a user can create their own folders/files.  Below gives illustrations of the information hierarchy optoins as described above: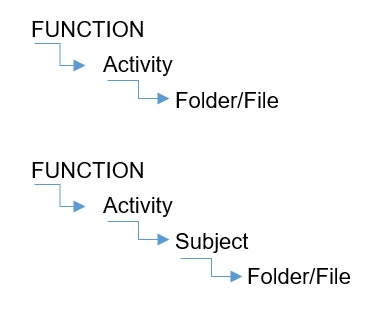 The current Administrative and Business Functions that the University uses are as follows: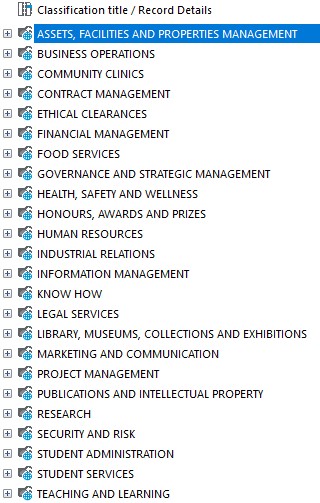 An example of the Function and Activity is as follows: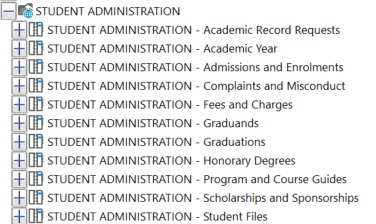 An example of the Function, Activity and Subject is as follows (Please note that a third level isn't always included and some classifications may just have a Function and Activity):

Therefore the entire string of the classification including to the third level where you are free to create your file with your own naming convention will look like the following:

| | | |
| --- | --- | --- |
| Level 1 - Pre-set | Level 2 - Pre-set | Level 3 - Free text area |
| FUNCTION | Activity | Folder / File |
And the entire string of the classification including to the fourth level where you are free to create your file with your own naming convention will look like the following:

| | | | |
| --- | --- | --- | --- |
| Level 1 - Pre-set | Level 2 - Pre-set | Level 3 – Pre-set | Level 4 - Free text area |
| FUNCTION | Activity | Subject | Folder / File |