The Electronic Course Profile System is a relatively straightforward system, designed to guide the user step-by-step through the process of developing a course profile.
However as you learn to use the system you may find yourself requiring help. There are two primary methods of obtaining help:
The Help pages
The Help pages you are currently reading should provide a great deal of assistance. Use the Help links at the top of the ECPS page or next to each section to access specific context-sensitive help (as shown below).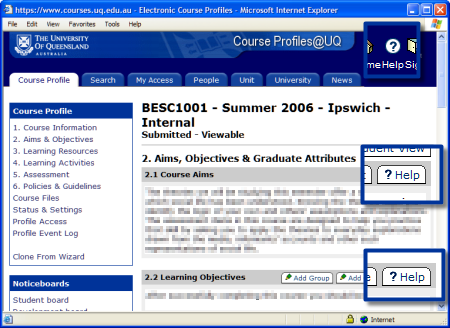 There is also a series of Frequently-Asked Questions which are being developed in response to some of the most common questions.
These pages are undergoing a process of development and fine-tuning. If you have any suggestions for improvement or believe a topic is not covered, please use our feedback e-mail: ecp@uq.edu.au.
Help from colleagues
Each School has several special ECPS users called Unit Administrators, whose role is to grant users access to profiles, publish the profiles when they're ready, and provide support to other ECPS users. Contact your School office to ask for assistance from an ECPS Unit Administrator.
Unit Administrators may contact Enterprise Support Systems for assistance with any issues they are not able to resolve.