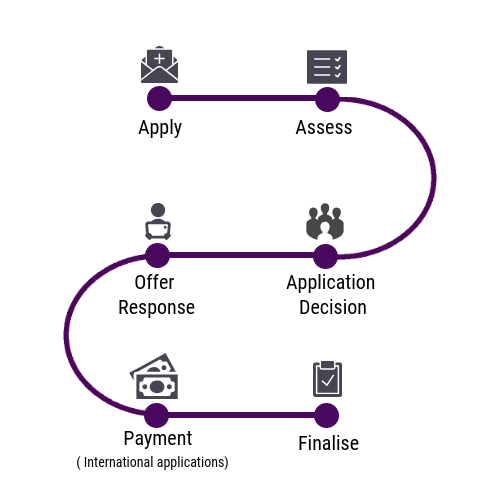 All applications are processed through SI-net but the method to apply can be different and is split as follows:
The Online Admissions Process is mostly used to capture the application information for the majority of international applications (excluding QTAC International), most postgraduate coursework domestic (including Honours), non award (including cross institutional and study abroad) and all HDR applications. 
Domestic undergraduate applicants apply and are assessed via, QTAC.
International foundation applicants are entered into SI-net via file upload and are assessed in SI-net.
UQ College are manually entered into SI-net.
Assess
Send information via checklists - @draft
Send documents via checklists - @draft
Question and Answer checklist items - @draft
Quota management
Recruiters
Top of page
Offer Response
Applicant Responds to Offer - @draft
Process the response to a conditional offer - @draft
Process the response to an unconditional offer - @draft
Auto-Matriculation Rules - @draft
Process Applicant Responses including Matriculation - @draft
Top of page
Need help?
Contact your local SI-net Expert User in the first instance for SI-net related support.
---
Feedback
Please provide your suggestions, corrections or general feedback on this guide.