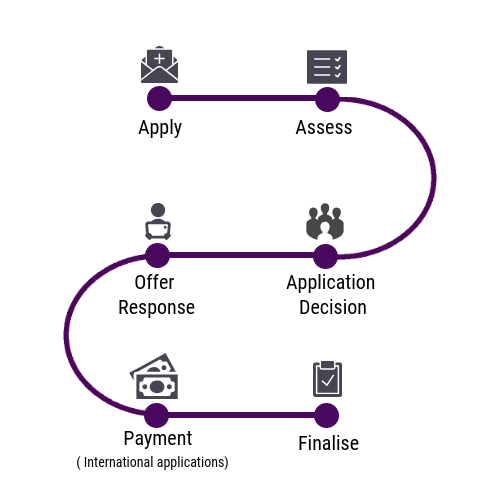 PLEASE NOTE: This training module provides information and instructions for admitting an applicant into the University using the Online Applications Process (OLA).  
SI-net Online Admissions Process is mostly used to capture the application information for Higher Doctorate, UQ College and CPD applications, as the other application types are handled by QTAC and the Online Application System. However, hard-copy applications may still be submitted and will be accepted for those other application types.
The Admissions process is managed by the UQ Applications WorkCentre.
Assess
Add checklist items
Send information via checklists
Send documents via checklists
Question and Answer checklist items
Quota management
Recruiters
Referees and Referee Reports - @review
Top of page
Application Decision
Auto decline
Applicant withdrawals
Deny an Application
Generate Documents
Make an Offer
Top of page
Offer Response
Applicant Responds to Offer
Process the response to a conditional offer
Process the response to an unconditional offer
Auto-Matriculation Rules
Process Applicant Responses including Matriculation
Top of page
Finalise
Archive applications
Send the Confirmation of Enrolment (COE)
Top of page
Feedback
Please provide your suggestions, corrections or general feedback on this guide.