Add project evidence/ material
What is your project evidence vault?
The Project Evidence Vault is where you save the evidence you need to supply in order to make a statement about engagement and impact.
You should consider at the beginning of the project what kinds of impacts may occur and collect evidence during the course of the project. 
Evidence may relate to:
Awards or professional recognition
Commercial impact
Intellectual property 
Legal
Media
Policy or regulatory documents
Social media
Read Guidance on the types of evidence that could be collected (PDF).
When you save material in the the Project Evidence Vault, all members of your project team can access it.
---
Adding material using the Impact Tracker button 
You can add evidence to the Project Evidence Vault using the Impact Tracker website.
Go to My Projects and select relevant project
Select Project Evidence Vault from the left-hand navigation bar
Select Add Evidence.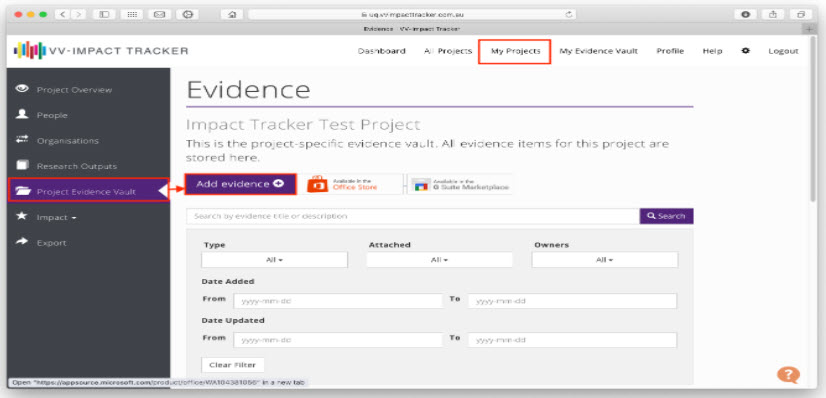 NB. You will need to nominate the Evidence Type.
Add documents in PDF or DOCX format using file upload.
Websites or webpages can be added using the Web Clip option.

---
Adding material using the Chrome Extension
For instructions on how to download the Chrome extension, see Adding curation tools.
Login to your VV-Impact Tracker account
Nominate your project
Ensure My Project Teams is selected 
Save page to VV-Impact Tracker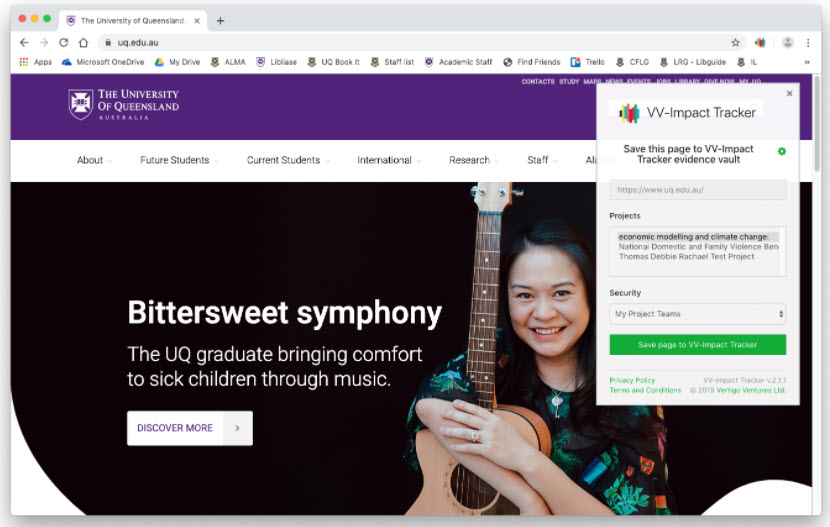 ---
Adding material using Outlook Add-on
To install the Outlook Add-in follow these instructions:
Navigate to Office 365 Outlook
Selected an email you would like to save
Select the More Options from the top, right-hand-side
Select Get Add-ins
Search for VV-Impact Tracker and Add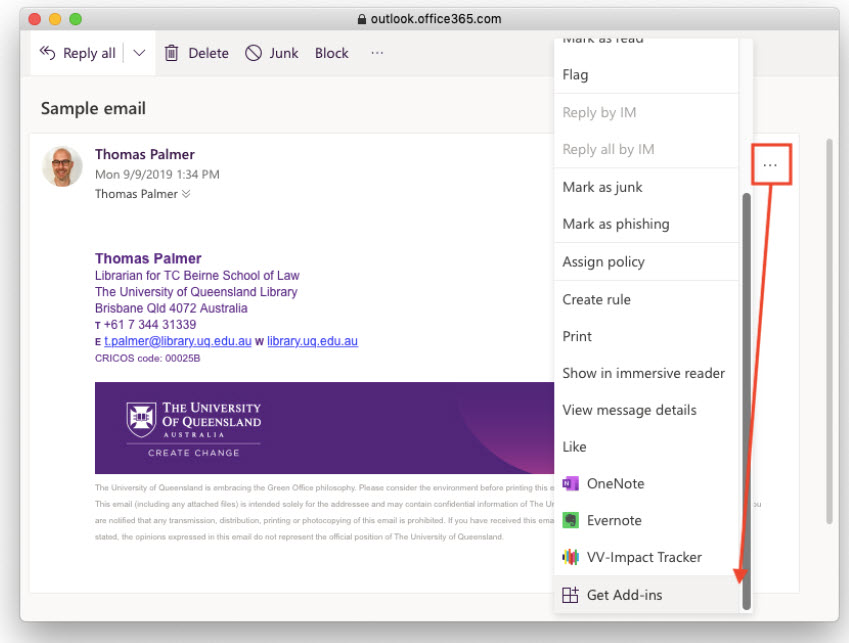 ---
Add material to Impact Tracker using the Add-In by
Login to your VV-Impact Tracker account
Nominate your project
Ensure My Project Teams is selected 
Save email to VV-Impact Tracker